NEW BRUNSWICK, N.J.—Audience members at the State Theater New Jersey experienced a performance as profound as it was mesmerizing on the evening of Nov. 21, as Shen Yun Performing Arts staged its last performance of the weekend after a three-show run at the theater.
Francis McEnerney,  a partner at an accounting firm, said Shen Yun took his breath away.
"It was absolutely magnificent," he said.
It was Mr. McEnerney's first time attending Shen Yun, the Chinese classical dance and music production sweeping the world with its annual global tours. Based in New York, Shen Yun brings to life Chinese culture as it was for millennia before communism.
"The stories were the best part. In the beginning, we saw a lot of dancing, but towards the middle and the end, it was a lot of stories," Mr. McEnerney said.
He added that he was very impressed with the animated backdrops used in the different dance scenes.
"The most magnificent thing was when the dancers left the stage and became animated, and then came back animated back on the stage in real form—and it was seamless," he said.
Shen Yun's colorful backdrops extend the stage to imaginative settings, such as ancient Chinese palaces, remote temples, or heavenly paradises.
Mr. McEnerney also praised Shen Yun's mission to revive China's traditional culture, which was almost exterminated during the Cultural Revolution and is in constant threat under today's communist rule.
I think any tradition is very important in keeping in any culture.
"I think any tradition is very important in keeping in any culture," he said. "Any repression of tradition is really repression of the people. So seeing that being exposed here was very enlightening as well."
Scenes of oppression in today's China are also depicted in some of the dance scenes in Shen Yun, with the spirit of goodness prevailing against all odds.
"The storylines about communist China are very enlightening. And we see a lot what's going on in our government policy about the Olympics coming up, and potentially the U.S. not going there. Those types of things are in the news now," Mr. McEnerney said. "It's a story about repression and redemption, and I thought that was incredible."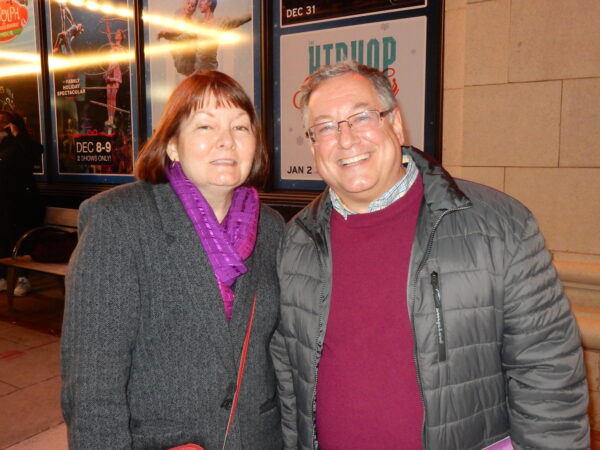 Shen Yun, 'I Loved It'
Robert and Dorine Nicosia came to see the performance to celebrate Mrs. Nicosia's birthday.
Mr. Nicosia, a finance manager, called Shen Yun's performers a "very talented group of people."
He said he was pleasantly surprised by the thread of faith that runs through the program.
"I think the world is lacking in faith, and I think anything that brings people closer to the Creator, espouses goodness, and remembers the historical culture of where we came from, I think that's great," he said.
Mrs. Nicosia was similarly full of praise for Shen Yun.
"I think the dancing was wonderful, the music was wonderful. The costumes–fabulous," she said. "I loved it."
Reporting by Yawen Hung and NTD Television.