PITTSBURGH—At the start of Chinese New Year in 2020, Pittsburgh residents had their eyes opened to the "very spiritual and beautiful" Chinese culture when Shen Yun Performing Arts opened at the Benedum Center for the Performing Arts. Traditionally, Chinese New Year is a joyous and hopeful time of year, especially for families, and Pittsburgh residents, including a representative sent from the Mayor's office, felt grateful that New York-based Shen Yun came to their city.
"The mayor [Mayor William Peduto] was not able to be here today, but he sent me and wanted me to just come and thank you for bringing this great performance to Pittsburgh," said Tiffani Simoneaux to Shen Yun's artists. Simoneaux is a member of the mayor's cabinet and the city's Early Childhood Manager. "We really appreciate that … we were a stop on your tour."
Mayor Peduto signed a proclamation designating a "Shen Yun Performing Weekend" for his city in honor of the celebrated New York-based classical Chinese dance company.
Pittsburgh is part of Shen Yun's vast world tour that involves seven touring companies dispatched to over 100 cities globally. Simoneaux was thoroughly impressed by not only Shen Yun's artistry and originality, but the opportunities it provides for opening youngsters' eyes to new cultures and experiences.
"I love [the performance]. Yes, I didn't know what to expect … I love the costumes and the dance," she said.
"In order to be able to understand other cultures, we need to be able to see them. And so it's something that I've seen lots of children here and sitting and, you know, watching the performance. I think it's just an amazing thing for them to be able to experience."
Shen Yun's mission is to revive China's traditional culture that has been developed and passed down over five millennia. Its essence is deeply spiritual, with influences from traditions such as Buddhism, Taoism, and Confucianism permeating everyday life. Shen Yun artists carry on China's legacy of observing personal spiritual practices by following what's known as Falun Dafa, a traditional spiritual discipline that teaches truthfulness, compassion, and tolerance and includes meditation. Thanks to this practice, Shen Yun artists say their performances reach depths of emotions and artistic heights they would not otherwise.
But Falun Dafa is severely persecuted in China today by the ruling communist party. Shen Yun cannot perform there as its artists would be in danger of becoming victims of state-sanctioned violence should they step foot in the country. The ruling communist party has mounted a campaign against Falun Dafa since 1999. In addition, the regime has carried out a systematic attack against traditional Chinese culture in general ever since it came to power because the regime perceives traditional culture as a threat to its own legitimacy.
On stage, Shen Yun depicts scenes from divinely-inspired legends, from ancient China, and also from modern-day China where people are standing up against the persecution. Many point to these pieces as being especially eye-opening, thanks to the little-known but true events they depict and also because of the hope, faith, and compassion they present.
"I've actually learned a lot around religious persecution and some of the things that happened to folks in China," Simoneaux said. "And, you know, it's something that we take for granted here in America and I feel that … should be something that everyone across the world should be able to celebrate their religion and be able to practice that."
Simoneaux said she loves that Shen Yun is sharing traditional Chinese culture with the world, and elaborated on the impact that people of different faiths and backgrounds have had on the city she represents.
We always love to be able to see someone kind of celebrating their culture and being able to show that to others.
"We have in here … in the Pittsburgh area, we definitely celebrate lots of immigrants, refugees, and families. You know, we are a city of immigrants," she said. "We always love to be able to see someone kind of celebrating their culture and being able to show that to others."
Like others in attendance, Simoneaux expressed the inspiration she took from Shen Yun that she'll carry with her outside of the theater.
"I just felt very inspired," she said. Simoneaux  wanted the artists themselves to know, "I definitely want to go home when I'm done here, I'm going to go home and kind of look more into some of the things that you said and definitely kind of expose other children that I work with into this great culture that you are able to show through dance."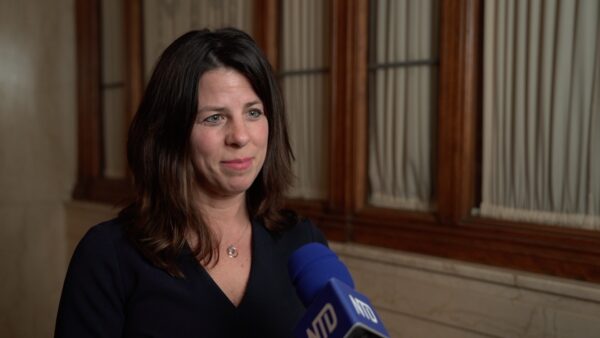 Like the city's educational manager, attendee April Hayes felt the "love and passion" in Shen Yun and wants to share it with others she knows.
"Amazing, incredible. Just in every part of the performance, it was amazing," said Hayes, who works as the director of real estate for nutritional supplement giant GNC.
"The music was very moving," she continued. "You felt it speak through you. There didn't need to be words expressed. You could just follow the movements, and the music combined. It was very moving, very touching."
Hayes said she would like to tell her friends that Shen Yun is "a must-see, and very spiritual, and beautiful. And the dance, the music, the orchestra, the pieces that were played. It's just an incredible piece to see."
With reporting by NTD Television and Brett Featherstone.