BREDA, The Netherlands—Jan Maarten van Rooij is a conductor of wind orchestras and brass, wind, and percussion ensembles. Concerts are his bread and butter, but rarely has he seen a production as grand as that of Shen Yun Performing Arts at the Chassé Theater in Breda, The Netherlands, on Jan. 29, 2020.
Van Rooij attended the classical Chinese dance performance and was both surprised and impressed with the accompanying orchestra, which of course, he paid close attention to.
"I am a music conductor. What I see—everything is perfect, spot-on, with the movement the dancers with the music," van Rooij said, adding that it is rare to see such a large production nowadays, where the music is live. "I like that very much, the integration of music, dance, and visual effects. I am very happy to be here; it is spot-on—it is perfect."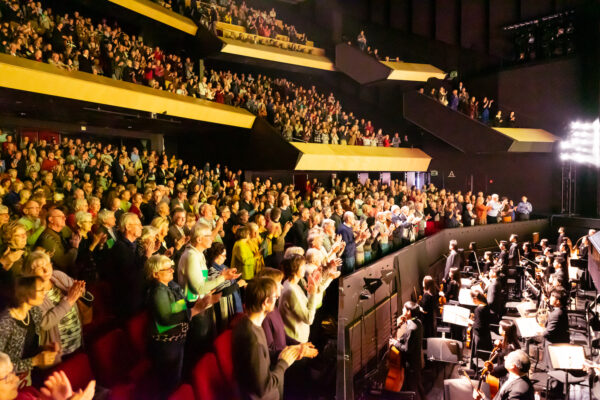 New York-based Shen Yun's mission is to revive the 5,000 years of Chinese culture and share it with the modern world through music and dance. Audience members often comment on Shen Yun's unique blend of old and new, bringing grand traditions to the forefront with an innovative touch.
One such unique facet of the performance is the orchestra itself, which places ancient Chinese instruments right in the middle of a classical orchestra.
"The integration within the tradition of the Chinese music, the usage of instruments of the West, it is phenomenal," van Rooij said. "The specific sound of the Chinese instruments are still in there and have a dominant role, that is what I can hear, but the Western instruments give somewhat of an assistance to the power of the sound and the richness. That is special as well."
A Shen Yun performance consists of 20 vignettes, and the classical Chinese dances and dance mini-dramas are all accompanied by original scores of Chinese melodies with Western orchestration.
The compositions, they are all in balance.
"The compositions, they are all in balance," van Rooij said, adding that not one bit of the composition is superfluous or lacking and that the score paired perfectly with what was happening on stage. "How the instruments are used during the music parts within the songs, it feels natural.
"If air floats or water is floating, you hear that in the music as well. Everything is in balance," he said. "And also the usage of traditional instruments together, especially the woodwind instruments from the West, it is still in balance."
Hearing the Chinese woodwinds and the Chinese lute, pipa, gave van Rooij a touch of inspiration. He wasn't sure yet where he might find a wooden flute, but he was keen on adding one to his ensemble.
"I have no idea yet, but it leads to inspiration," he said.
With reporting by Sherry Dong.