PHILADELPHIA—Dance studio owner Kate Shier watched Shen Yun Performing Arts with six family members on March 3, and was mesmerized by the level of skill displayed by the dancers.
The artists, Shier said, were "just completely athletic and graceful, beautiful."
"Their expressions were lovely and even down to the fingertips," she said after watching Shen Yun at Philadelphia's Merriam theater.
"It's just amazing."
Shen Yun has just capped off its 4-week run at Merriam Theater, with all 25 shows selling out. The city is one of more than 130 stops on the company's 2019 world tour, which sees six equally large contingents travel across four continents to showcase traditional Chinese culture through music and dance.
Storytelling Through Dance
Shier owns Feet First Dance Studio in Phoenixville, Philadelphia, and has been dancing for 15 years. Her partner, who has been dancing his whole life, is the studio's artistic director. Shier is also an accountant and costume designer.
The way Shen Yun tells stories from China's 5,000 years of civilization through classical Chinese dance particularly resonated with Shier, whose studio recitals also feature dance-based storytelling.
"It helps you when you watch the dancers to be able to see what they are interpreting through dance," Shier said.
"It just helps bring the whole thing together, artistically."
The costumes and their special place in the choreography also stood out to Shier.
"I loved how the costumes were integrated into all the dances, because I see it from all different levels," she said. The flowing skirts and sleeves featured in certain dances weren't just indicative of the dynasty or region represented, they worked like props, and extensions of the dancers' limbs. 
"They were such a part of the choreography. I found that fascinating and lovely."
Shier applauded Shen Yun's efforts to bring classical Chinese dance to audiences around the world, adding that she wanted to bring her dance students to experience the performance next year.
Reviving Traditional Culture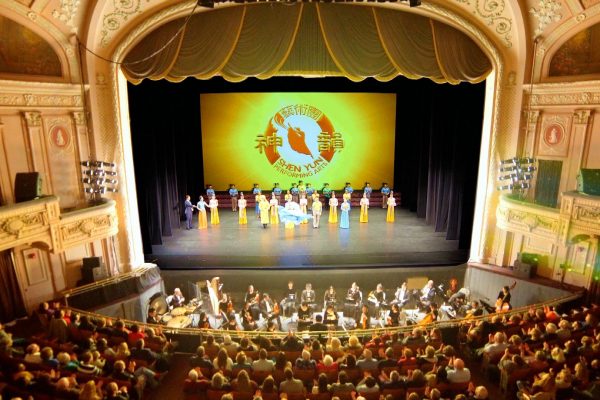 Marc Rovito, medical director at St. Joseph Cancer Center and assistant professor of medicine at Pennsylvania State Hershey Cancer Institute, also saw the performance at Merriam Theater. He firmly supported Shen Yun's mission to restore China's divinely-inspired culture.
"Our roots are important to us as human beings in a society, it allows us to reflect and it allows us to learn," Rovito said.
"Wiping out a past is never never beneficial for anyone; you can't restart history."
Rovito said the spiritual theme flowing though the programs struck him.
"You could see it, you could understand it, and it was very hopeful," he said.
Chinese people for thousands of years have believed in the divine, as embodied in the teachings of Buddhism, Taoism, and Confucianism. These beliefs spawned values and morals that guided Chinese people's ways of thinking and conduct for millennia. Such values included righteousness, benevolence, loyalty, and truthfulness, and continued to underpin Chinese culture up until the communist regime took power in the mid-20th century.
Rovito was emphatic that a people's culture must be maintained, and encouraged more people to revel in Shen Yun's mission.
"You just have to go see it," he said.
"It makes you feel hopeful that [a group] like Shen Yun … is rekindling and remaking that, bringing that back."
With reporting by Lily Sun and Janita Kan.