SAN FRANCISCO—Lorna Gosvener, who was an ice dancer in the 1980 Winter Olympics, experienced Shen Yun Performing Arts at the War Memorial Opera House on Jan. 4.
"It was just fabulous," she said. "The costumes, the choreography, the athleticism—it was just unbelievable. It's a perfect show for anyone to come and see. It had everything."
Shen Yun artists perform classical Chinese dance accompanied by live orchestral music. The company is based in New York and has seven touring companies that travel the globe with the mission of bringing traditional Chinese culture back to life onstage.
"[The dancers' skills are] top-notch," said Gosvener, who won three gold medals at the Canadian Figure Dkating Championships and still teaches ice dancing. "Absolutely brilliant, to be able to hold the poses the way they did, and in the most extreme positions. It was just beautiful. And one of the best things I think about it is, nothing was unattractive. … Every single thing that was on that stage was just beautiful."
For the past several decades, the Chinese communist regime has systematically tried to destroy traditional Chinese culture, including spiritual beliefs and traditional moral values. Shen Yun aims to revive this culture in an art form, so it cannot perform in China today for fear of persecution.
"[The spirituality in Shen Yun] was magnificent. It was absolutely beautiful," Gosvener said. "I was truly amazed that they don't get to see this show in China. I teach ice skating for a living, and I have many Chinese students and their parents, and I can't wait to tell them that I actually saw the show, and see how many of them have not seen it. If any of them have not seen it, I'm going to insist they have to come and see it. It was beautiful."
She said Shen Yun reminded her to "be blessed that we are here and in such a beautiful place."
"To watch something like that is an evening to be remembered," she said. "It's basically absolutely everything you can put into a show. There's athleticism; the orchestra was amazing; the singing, there was opera; the pianist was amazing. … It's one of the best things I've ever seen."
Each year, Shen Yun performs an all-new production of dance and music pieces.
"I can't believe they can do a show like this every single year," Gosvener said. "It's unbelievable that they can do that much. That's got to be a lifelong commitment, to do something of that extent."
Shen Yun's Unique Digital Backdrop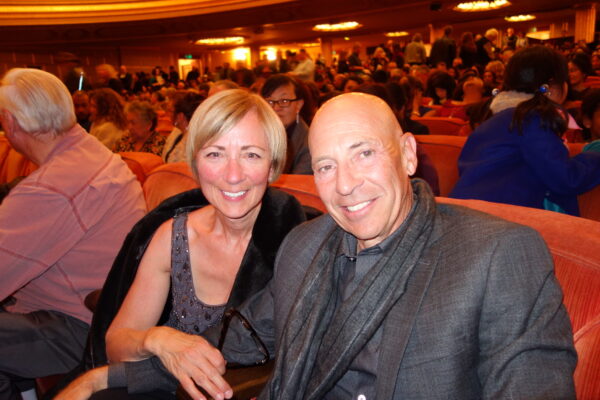 Rich Jacobson, a financial advisor at Jacobson Wealth Management, found watching Shen Yun to be a wonderful experience.
"We're learning a lot about Chinese culture through the dance, and also we're learning a lot about the history," he said. "The dancers are magnificent. They're so superb at what they do. They make it look easy. … We're very glad we're here."
A digital backdrop provides changing scenery for the dancers as they tell stories and legends from ancient China. The backdrop is a patented invention unique to Shen Yun.
"They use the film, and they integrate it with the dance, which is really unbelievable," said Jacobson. "It's very, very smart."
The backdrop displays not only landscapes from China but also heavenly scenery. Jacobson was surprised to learn that ancient Chinese culture was very spiritual.
"Right from the beginning, we learned how the gods came down to form the culture," he said.
He was referring to the opening dance piece, "The Firmament Renewed," in which the Creator leads divine beings to establish Chinese civilization on earth.
"I didn't really realize how much Chinese ancient culture believed in the divinity, believed in God, and believed in a divine creation and gods. So for me, this is very eye-opening, and it's very beautiful, and it makes me a little sad in some ways too, because I realize they can't show this in China now. But it's so beautiful, and it is important because this is part of their history," Jacobson said.
Jacobson was not alone in not knowing about the divine aspect of Chinese culture until he saw Shen Yun. Because of the Chinese communist regime's efforts to destroy traditions, the spiritual aspect of the culture was nearly lost.
"The spirituality is really very beautiful, and I like the whole idea of them coming down to the earth to form the culture," said Jacobson. "That was so beautiful, the way it was done."
Shen Yun, 'A Learning Experience'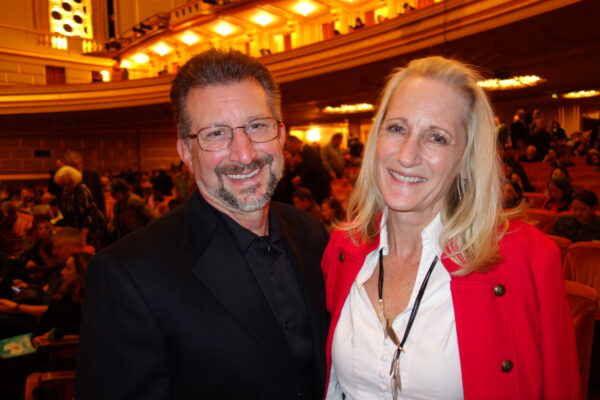 Seth Lyle, owner of a construction company, was also in attendance.
"I think it's wonderful," he said. "It's very lovely."
He admired the flipping and tumbling techniques used in classical Chinese dance. He also enjoyed learning about the spiritual aspect of Chinese culture.
"I think you get a feeling of the passion and the spiritual aspects that inspire the dances," he said. "I think it shows in not only the performances and the performers themselves—because you have to be really inspired to do something like that—but also just the vibrancy and colors and the music and how it makes you feel. It's wonderful."
Lyle noted that children love watching Shen Yun, and he found it to be educational.
"I didn't realize that this was something that is actually trying to bring attention to some of the traditional cultures maybe that aren't allowed to flourish now in China. And so it's been a learning experience for me, just hearing them narrate and tell people about what the show is representing," he said.
"I think that's a really important thing, and the way that we're going to make this world a better place is if people understand each other better, and we continue to allow every culture and every religion and people to have a voice and be able to express themselves," he said. "This is a wonderful way to do it, because people are getting to experience this, and it's also educating them about things they may not be aware of."
With reporting by Gary Wang, Lily Yu, and Sally Appert.