PHILADELPHIA—Philadelphia local Kevin Mackie is a music producer who won a Grammy for best children's album of the year in 2012. He said everything about Shen Yun Performing Arts's performance was outstanding after watching the spectacle at Philadelphia Merriam Theater on Feb. 13.
The orchestra, in particular, was incredible, Mackie said.
The company tours with its own orchestra, a unique ensemble that includes both classical Chinese and Western instruments. Distinctly Eastern melodies play on top of a resounding classical orchestral base, creating a refreshing yet still familiar sound.
With a mission to revive 5,000 years of Chinese civilization, Shen Yun tours the world every year to showcase the essence of this divinely-inspired culture through music and dance. Stories from ancient China to the modern-day are also told on stage through classical Chinese dance.
The music producer, who also works as a manager at a local supermarket, said the performance transported him to a different age.
"I felt that it took me back, hundreds of years, watching and learning," Mackie said.
"I really felt I was taken back to that time of life in China."
Mackie applauded the work of Shen Yun's artistic director, D.F, and thanked him for his contribution.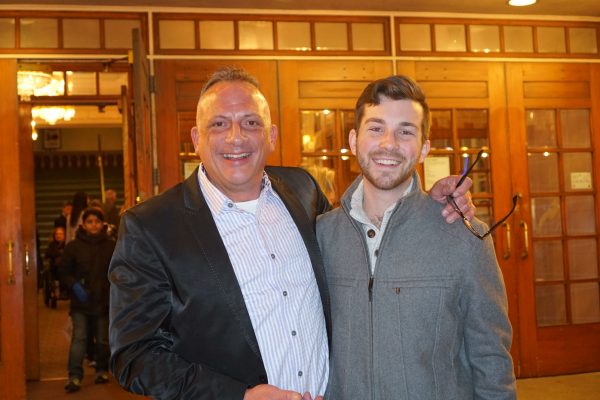 Special events producer Tony Marcocci, who watched the performance on the same night, also commended the artistic director's efforts.
Marcocci's company Under the Sun Productions produces professional parades which include marching bands and dance groups, so he said he appreciated the amount of energy and skill it takes to put together a performance of this caliber.
He praised "the ingenuity and thought process" that must have been involved to, without words, reach a "different level of storytelling through body movement." In short, it was overwhelming.
For Marcocci, the choreography struck him the most; he described the dancers' technique as "breathtaking beyond belief."
He highlighted how the dancers' timing, balance, form, and precision were top-notch, noting that the performers must have been expertly trained.
Shen Yun dancers are among the best classical Chinese dancers in the world. Along with mastering the difficult flips and tumbling techniques, the dancers also cultivate an inner bearing required of the dance form, known as "yun." This metaphysical requirement of classical Chinese dance separates it from other dance styles, and allows the dancer to communicate his or her inner feelings to the audience.
Marcocci, despite having previously seen the performance around 7 years ago, was blown away by the overall production this time round as well.
"The detailing, the costume, the new choreography … [was] really really excellent."
With reporting by Sun Lijie.