PHILADELPHIA—World-renowned Shen Yun Performing Arts wrapped on a month of performances at the Merriam Theater in Philadelphia on March 1, 2020, where State Representative Maria P. Donatucci caught the very last performance during the Sunday matinee.
"It's amazing that without a word except from the commentators, how much we pick up from just the movement, the motion, the music—it tells us the whole story. It's just beautiful," said Donatucci, who represents a large Asian community that piqued her interest in Shen Yun.
The New York-based company has in just the last decade become a global phenomenon, using classical Chinese dance and the arts to revive a once nearly lost, 5,000-year-old divinely inspired culture. Donatucci was thrilled to see a spirituality integrated into the performance that felt universal, and sad that this traditional culture is being suppressed in China. She wished Shen Yun success in its mission to revive it, in places like Philadelphia and elsewhere around the world.
I think there is a lot of emotion and passion in their movement.
"I think there is a lot of emotion and passion in their movement, and it's almost like worshiping, the way they move and dance with it," Donatucci said. The name Shen Yun translates into "the beauty of divine beings dancing," which Donatucci felt more than appropriate.
"It is extremely spiritual," she said. It was relaxing, calming, and inspiring all the same. "It's amazing to think, all the different things they do in this performance. It really is, it's beautiful. I'm enjoying it so much, I really am."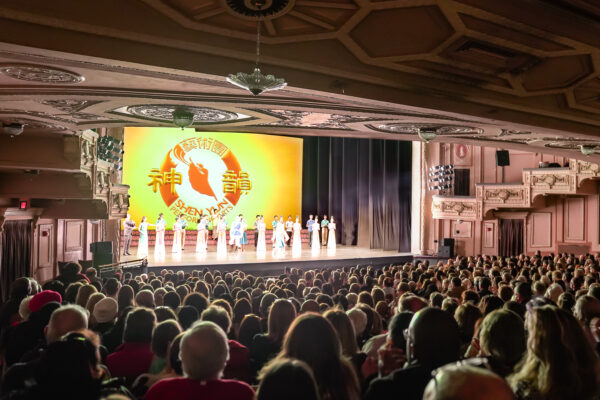 Donatucci spoke of the universality of what she saw on stage, how despite it being an ancient culture foreign to many, the characters in the stories and the deeper themes one could glean were things anyone could relate to.
From the grand to the comical and relatable, all of it is available, she explained. There were stories she laughed at, characters striking familiar—like a mother getting mad—and even pieces that touch on our humanity and move us to action.
There was a contemporary scene, for example, which told a story that involved the persecution of spiritual believers in China today. Donatucci was deeply saddened by the atrocities committed by the communist state.
"That moved me a lot, but I'm also moved by the beauty of the dancers and the gracefulness," she said.
"A beautiful all in all experience. And I recommend for everybody to get a chance to see it. I feel so happy that I got to see it."
With reporting by NTD Television.