BERKELEY, Calif.—Michelle Vasey, owner of a real estate brokerage, was touched and fascinated when she saw Shen Yun Performing Arts on Dec. 21, 2019.
She attended the performance of classical Chinese dance at Zellerbach Hall in Berkeley, California.
"I'm really enjoying it," she said. "It's just gorgeous. Very graceful. … I think it's a very high level of technique and skill."
Shen Yun is based in New York and has several touring companies that travel the world each year. Its mission is to revive 5,000 years of Chinese culture through the universal languages of dance and music.
Shen Yun presents an all-new program every year. Vasey especially admired a dance piece in which the dancers wear long, flowing sleeves called water sleeves.
"I thought that the lantern dance was also really special," she added, referring to the dance piece "Lantern Grace."
The choreography and costumes of the dancers formed intricate patterns onstage, accompanied by a unique live orchestra.
"I loved to hear the original Chinese instruments together with the more classical European instruments," Vasey said. "That whole yin-yang between the music and the dance, and the whole thing, is really interesting. The power and the beauty."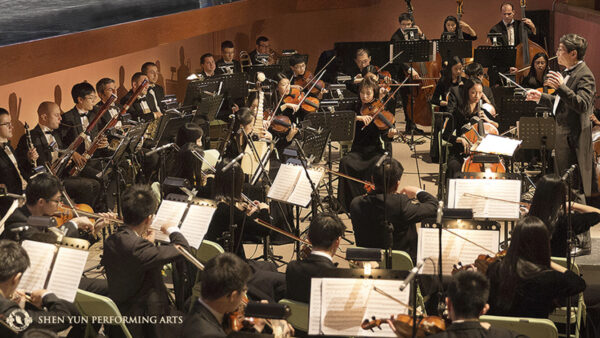 Shen Yun and Spirituality
Shen Yun's mission goes deeper than just creating a beautiful display. The company aims to portray the traditional values of Chinese culture, such as benevolence, propriety, and respect for the divine.
Vasey was touched by this spiritual aspect of the performance.
"I myself am a believer in universal spirituality, and so it speaks to me on that level that all religions have a common goal and a common purpose, and it's being expressed this time in dance," she said.
In modern China, traditional culture was nearly destroyed by the communist regime that took over China several decades ago. Shen Yun's goal is to revive this lost culture. Some Shen Yun dance pieces portray modern tales of courage in the face of communist oppression.
As a result, Shen Yun cannot perform in China today.
"The fact that this can't be performed in China just breaks my heart," Vasey said. "Because you think of the culture that is being lost there, to the people that are there. And I really like the aspect of purity and self-fulfillment through dance and movement."
This year, the dance piece "Abetting the Wicked" tells a story about the persecution of Falun Gong, a peaceful meditation discipline that is based on the values of truthfulness, compassion, and tolerance. Falun Gong has been brutally oppressed by the Chinese communist regime since 1999.
"I think that's the one that touched me the deepest," Vasey said of this dance piece.
As for the Shen Yun performance overall, she said, "I just feel like it's very uplifting."
With reporting by Chiawei Lin and Sally Appert.