PHILADELPHIA—Chuck Lewis and his wife Anne Lewis were touched by Shen Yun Performing Arts's mission to bring back traditional culture to the world. The couple thinks it's important to "celebrate our traditions no matter what."
"I hope it never dies. I hope it only grows," said Chuck, who is an executive vice president at the Thomas Jefferson University and Jefferson Health in Philadelphia.
The couple was among the audience at the Merriam Theater on March 1, where Shen Yun performed to an enthusiastic full house. The New York-based company is in the midst of its 2019 tour and has already performed to dozens of sold-out performances across the globe.
Chuck said Shen Yun was able to give audience members a glimpse of how China was before the current communist regime seized power, adding that it's something Chinese people are most likely yearning to see again.
"It takes you back to a China that once was. And I really feel like, in many cases, that it's sorely missed. I got the feeling that it's sorely missed by the Chinese people. And I'm so glad that we can enjoy it here in America," he said.
Like Chuck, many of Shen Yun's audience members are sad when they hear from the emcees that Shen Yun can't perform in China today.
Little does the audience know, the Chinese Communist Party (CCP) sees traditional Chinese culture, which is deeply rooted in Buddhism, Taoism, and Confucianism, as its greatest rival.
The aim of the Cultural Revolution, which occurred between 1966 and 1976, was an unprecedented move to systematically eradicate traditional culture and replace it with Mao Zedong's way of thinking and style of discourse, as Shen Yun also explains on its website. Therefore, Mao's campaign has been catastrophic for China's traditional culture.
With Shen Yun performing in over 100 cities around the world a year, the performance is like a window into a cultural treasure that is nearly lost.
In addition, Chuck praised the tenor's vocal ability, adding that he was touched by the lyrics, which were translated on the backdrop.
"He was singing about something that was very, very core to his being, and how the divine within needs to come out, right? I think that was an expression of what they express for the Chinese people," he said.
Along with dance, Shen Yun also features a number of solo vocalists who perform using the bel canto technique—which is challenging to perform due to the difficulty of retaining proper Chinese pronunciation and diction.
The lyrics of these original songs often inspire audience members as they are filled with philosophical reflection about human life and contain deep layers of meaning, going beyond the boundaries of nation, race, and culture, according to the company's website.
Meanwhile, his wife Anne, who is an associate professor at DeSales University, said she was impressed by the precision and artistry of the performers.
"The precision of marrying the dancing to the projection in the back is really, really excellent! And the precision of the movement, and the uniformity of the movement, really quite something. It's really a pleasure to watch," she said.
Anne, who is also an actor and director, continued, "And the balance that they use with, you know, the numbers of people on stage and the costuming. It's just spectacular. I know, looking at their bodies, I'm like oh my gosh! They're really, really well trained."
The associate professor said she would recommend the performance to friends, describing it as a cultural experience.
"It's a celebration of life. It's a celebration of culture and tradition. And it speaks to the discipline of the individual, and the discipline of their spirituality," she said.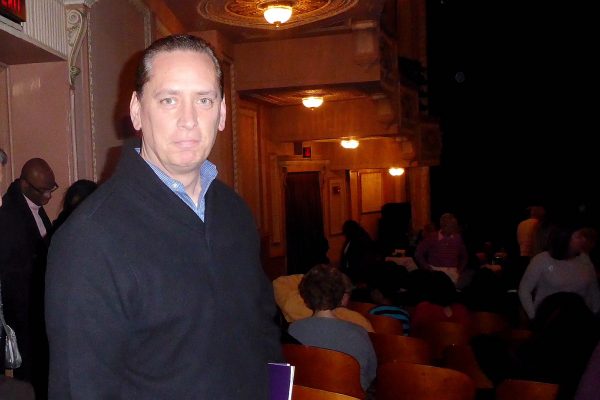 'Important to Keep History Alive'
Also in the audience was Michael Debevec, the managing director for investment company BlackRock. Debevec also thought Shen Yun's mission is important.
"I think it's always important to keep history alive. So for the extent they can do that and show that and have a place to express that, I think it's very good," he said.
Moreover, Debevec said he liked the dancing, adding that the piece "Mongolian Spirit" resonated with him.
"I think it resonated with me, I thought the movements and how they pressed the horse movements, I thought it was very good," he said.
With reporting by Lily Sun and Frank Liang.