MONTREAL—The beauty of Shen Yun Performing Arts moved many in the audience at the Place des Arts – Salle Wilfrid-Pelletier on Jan. 5, in Montreal, Canada, including many artists who were among the theatergoers.
Yoana Petkova, a piano teacher who also practices traditional Bulgarian dance, enjoyed the performance.
She said she felt moved throughout the performance.
"I think the first time I was moved was with the dance with the sleeves," she said.
"Sleeves of the Tang Palace" illustrates the spirit of the Tang dynasty, a dynasty of high cultural civilization, through the movements and expression of the dancers in long silken sleeves.
"The colors with the music and the movements, it touched me. I wasn't expecting it, it really touched me, it was really pretty," she said.
Petkova said she felt joy and contemplation.
"I contemplated something beautiful, and it moved me because it was beautiful," she said.
'This is medicine'
Raushana Asylbekova and Steven Zarbatany were also in attendance.
Asylbekova has worked as a choreographer of classical ballet in Russia. Zarbatany is a musician.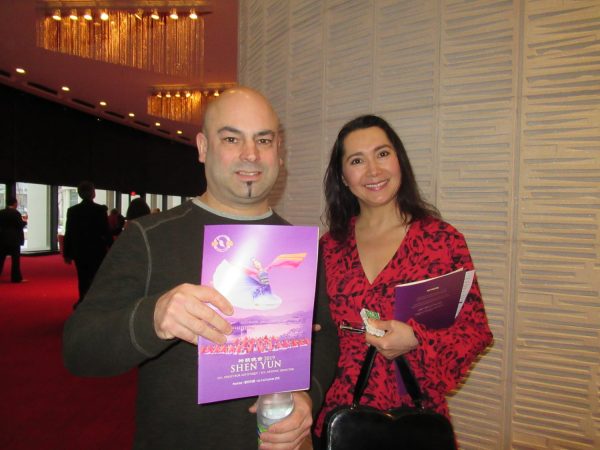 Asylbekova said she was moved the story "Goodness in the Face of Evil", which depicts a network of prisons reminiscent of Soviet gulags in modern day China, used in the persecution of religious and spiritual people by the communist regime.
"I was almost crying," said Asylbekova. "It is very brave to retell such a story, because in China it's impossible [to freely depict this] really. I'm from Russia, I'm from the ex-Soviet Union. We had major things, similar, but not to this point, however."
"But it's not only in China, not only in Russia, not only anywhere else. This whole humanity is facing destruction right now. It's like never before, we are in the age of destruction…So now we have to all combine together."
Shen Yun Performing Arts was formed in 2006 in New York by artists who wanted to share the authentic traditional Chinese culture with the world. Asylbekova noted that dancers and musicians come to join Shen Yun from all over the world.
"And this is the best thing when they combine together their expertise to wake up our spirituality, our inner humanity, our emotions, and get in path of this beauty, this universe, planet, music, colors," she said.
"This is medicine," added Zarbatany.
Asylbekova continued, "This is the soul connection with your spiritual divine beginning, that's connected, not technology and evolution. So we have to save ourselves. We have to unite all humanity together and save ourselves."
'Shows like this make us better'
Roumen Petkov, an actor and director was also in attendance.
Traditional Chinese culture is said to be divinely inspired, and Petkov said he could feel that divine aspect.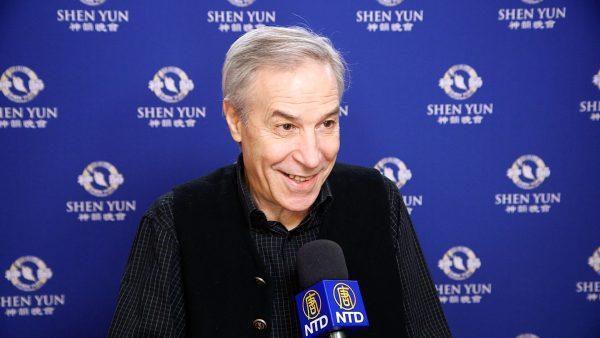 "All the time with all the multimedia effects, which are transmitted there, there is a term: 'deus ex machina.' …That's the divine: the divine that always comes to participate in people's lives."
Petkov said this divine participation encourages the development of the mind, and he was affected by that.
"There were lots of reactions around me. The audience reacted emotionally, with 'ah!','oh!','bravo!' That's how it is as they participate and they really see a scene in reality. It was really great."
Petkov experienced Shen Yun with his wife.
"When we finished the show, my wife said, 'I thank you very much, because shows like this make us better.'"
Petkov added, "We become better because we see something that touches the human mind that is really more important than the material values."
With reporting by NTD Television, Donna He, and Carrie Gilkison.